Social Media Optimization
Extend your social reach with our SMO services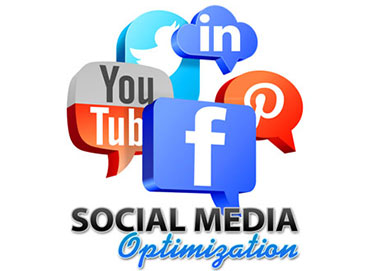 Social Pages: We create and regularly manage all of your social media pages for you
Promotion: Marketing campaigns for your events, lead nurturing, and Groupon.com
Landing Pages: Custom landing pages with lead capture forms and social sharing options
Doc Center: A great informational tool made available to customers on your website
Training Library: Access to exclusive marketing resources and online training sessions
SMO Reporting: Social analytics and statistical information built right into your system
Branded pages on the right social media channels
Over 92% of businesses are now incorporating social media into their marketing efforts, which is why your business needs its own social media marketing team. That's where we come in.
Account creation and management of up to 40+ social media networks
Professional and customized Facebook page design that is updated every quarter
Daily scheduled posts in a variety of categories on all of your social media pages
Promote offers with lead nurturing and Groupon
Whether you want to launch a lead nurturing campaign or a timed promotion, we set up the right pages to communicate your message across multiple channels.
Custom page creation for your special events
Discounts or offers featured on Groupon.com
Set up and management of lead nurture campaigns
Landing page creation for your marketing campaigns
We set up beautifully designed HTML landing pages and report on analytics to tell you how well each of them are performing.
Professional landing pages with a customized design for every season
Attractive and effective web forms that capture qualified leads
Social sharing options to expand your reach and increase traffic to your site
Business and marketing resources on your social site
The Doc Center serves both as a marketing resource for your business, and as an information hub where visitors can learn more about how your products and services can benefit them.
Pre-made kits and documents that you can use to get you started
A resource accessible by your customers with information on the benefits of your offers
Online marketing material such as Facebook banners, Pinterest infographics, and more
Training library packed with business tips, techniques, and online courses
With our SMO service, you not only have your own personal marketing team, but we train you to become an expert social media marketer yourself.
A complete learning center with a series of informative online courses
SMO 3.0 Training with updates on any new changes to your social platforms
Weekly webinars and past recordings about the latest social media trends
SMO tracking that measures your social interactions and reach
Are you hesitant and unsure about whether or not social media optimization works? We will report on all of our SMO efforts so you can see the return you are getting on your social media investment.
Analytics and reporting on your social reach, interaction, and engagement
Up-to-date counts on your social media page fans, followers, and subscribers
Lead conversion rates to measure the effectiveness of your landing pages