Online Booking
Sell your classes, events and memberships online
Create and Manage: Your customers will have access to a full schedule of your classes and events on pages that are custom-made by you.
Promote and Sell: We provide you with the marketing tools you need to sell more memberships and fill spots for your classes and events.
Collect and Measure: Receive payment instantly when customers book online and create reports to track sales or measure the success of your events.
Social Embedding: Take the entire booking process to your social networks!
Create professional event pages that encourage customers to purchase online
With everyone using the internet to find and buy what they need, PerfectMIND lets customers find your schedule, book events, and buy memberships online.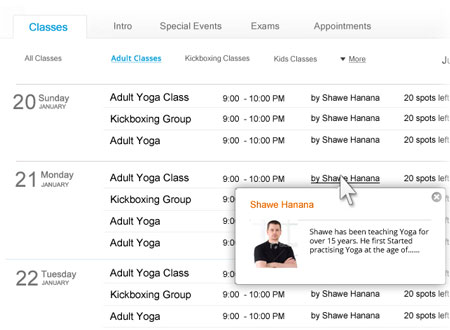 Create pages for memberships, classes, workshops, seminars, or other special events.
Customize details like logo, description, registration fields, staff availability, and more.
Set participant limit to show how many spots are left and which classes are full.
Spread the word about your programs using the advanced promotional tools
You offer amazing programs, but you need to promote what you offer using the right tactics. PerfectMIND gives you the marketing tools to fill spaces and sell services.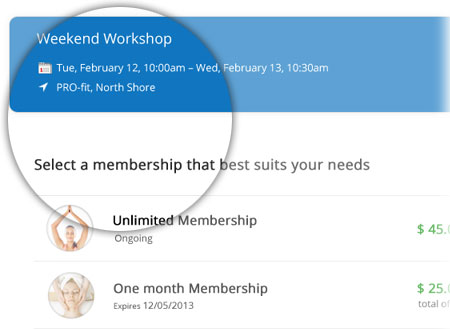 Send personalized invitations and offers with an engaging email marketing campaign.
Social media sharing options make it easy for others to promote your event.
Prompt attendees with a list of membership options before they reach the checkout.
Collect payments and measure performance
Instantly receive payment, track purchases, and create sales reports. You can use this information to determine where you should be spending the most and where to cut costs.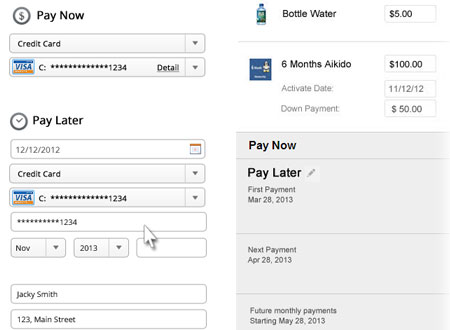 Multiple online payment options: Visa, MasterCard, EFT.
Send email confirmations and allow customers to print receipt.
Create reports that can evaluate your peak hours, most popular events, and more.
Embed your schedule on Facebook and other social platforms
Social embedding promotes your schedule on your social media profile giving your customers and followers a convenient way to book online.
Make your schedule accessible on socials networks using an easy-to-embed calendar.
Allow users to book and buy right through the embedded schedule on your social page.
Social embedding makes it even easier for your customers to promote your events online.