Marketing Campaigns and Landing Pages
Create marketing campaigns with attractive landing pages that convert visitors into customers
Campaigns: Develop online marketing campaigns that generate qualified leads
Landing Pages: Create custom pages and lead capture forms that match your campaigns
Workflows: Set up automated responses to certain actions taken on your landing pages
Tracking: Check conversion rates and assess the effectiveness of your marketing efforts
Enter marketing campaigns into PerfectMIND and track your leads
Any marketing initiative you take is considered a campaign, including events and paid online advertising. Your business software helps you manage these campaigns in one place.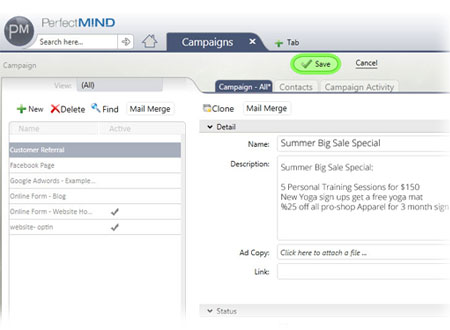 Each campaign will have a unique campaign ID that will track every lead or subscriber
Run a series of campaigns simultaneously and compare them against each other
Generate a huge number of leads by managing multiple Google AdWords campaigns
Convert leads with attractive landing pages for each of your campaigns
A landing page is essential to have when executing your online marketing campaigns. Use PerfectMIND to create multiple landing pages that convert your site visitors into sales leads.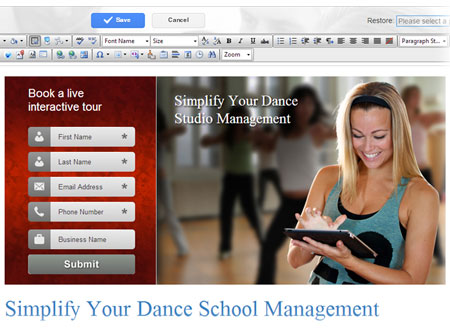 Beautifully designed landing pages for your seasonal and holiday promotions
Tailor your page for a specific audience with targeted messaging, images, and offers
Create multiple landing pages for the same campaign to see which one is more effective
Set up automated responses that trigger when an action is taken.
A workflow is used to control automated processes related to your campaigns. This feature continues working even when you are away, so you never miss interactions with a new lead.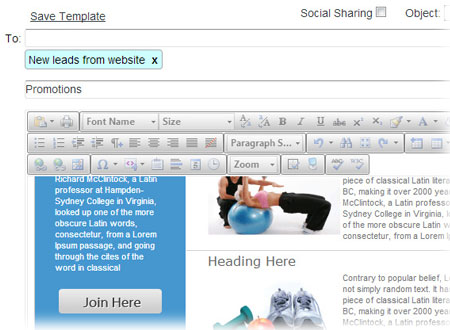 Automated emails ensure that your leads receive communication from you right away
Receive a notification every time a lead or prospect converts on your landing page
Set up triggers to update the status of your leads and prospects when they take action
Keep track of how your marketing campaigns are performing
You may have a beautiful landing page design and call to action, but how do you know if it is effective? We give you the tools you need to monitor your leads and prospects.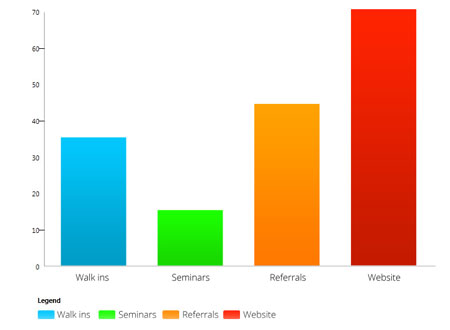 Set start and end dates for timed promotions, ads, and seasonal campaigns
Your software automatically updates every activity for your campaigns in real-time
Track and measure your page click through and conversion rates, web traffic, and more